Best Indoor Soccer Shoes for Kids 2023 (updated list)
When it comes to any sport, having the right gear can make all the difference. And for kids, a pair of quality indoor soccer shoes is essential for optimal performance on the field. But with so many options out there, it can be tough to know which shoes are truly the best indoor soccer shoes for kids.
To make it easier for you, we've done the research and are here to provide a definitive guide to the top indoor soccer shoes for kids. If you are looking for indoor soccer shoes for men, or women's indoor soccer shoes we still have you covered in this article. We've rounded up the top kicks for kids to help them dominate the field. From superior traction to comfortable fits, these shoes have it all. So let's lace up and get ready to score some goals!
5 of The Best Youth Indoor Soccer Shoes
Before you check out these youth indoor soccer shoes we have lined up, do find out how to choose indoor soccer shoes by reading our detailed buying guide.
In terms of both performance and comfort, our choice was the Adidas Samba Classic. It passes all tests and requirements for an indoor soccer shoe for kids, and to date we have not come across a better design.
But if you'd like to have more options, we have chosen several top functioning youth indoor soccer shoes that will help bring out the best performance in your kids' game.
Best Indoor Soccer Shoes for Kids
PRODUCT
UPPER
MIDSOLE
INSOLE
OUTSOLE
FIT
WEIGHT
CLOSURE
PRICE

OUR CHOICE

adidas Samba Classic

Full grain kangaroo leather

EVA foam

EVA foam

Gum Rubber

Normal

~6.8 oz

Lace-up

COOLEST DESIGN

Joma Toeldo Jr ID

Natural leather + synthetic material

EVA foam

EVA foam

Gum Rubber

Normal to wide

N/A

Lace-up

TOP CHOICE

Puma Rapido III Jr

Synthetic mesh

EVA foam

EVA foam

Gum Rubber

Normal to narrow

~5 oz

Lace-up

VALUE FOR MONEY

Diadora Cattura ID Jr

Synthetic leather (PU)

EVA foam

EVA foam (fixed)

Gum Rubber

Normal to wide

~7 oz

Lace-up

BUDGET PICK

Hawkwell Kids Indoor Soccer Shoes

Synthetic mesh

EVA foam

EVA foam

Gum Rubber

Normal to narrow

~8 oz

Lace-up
The Samba has been one of the best selling shoes by Adidas for years and for good reason. Everything about the shoe is aimed at enhancing the player's performance during play. Let's see why we consider this as one of the best options for adults and kids alike.
Starting from the top, Adidas Samba upper is made of natural leather. It's one of the few shoes in market in their price range that use natural leather, in this case full-grain kangaroo leather. The best thing about leather shoes is the flexibility and comfort they provide. They can conform to the shape of the feet and adjust accordingly, resulting in a near perfect fit for the wearer.
Other advantages of the leather in the Sambas are, ease of cleaning, water resistance, and of course the undeniable sense of style. Special chemicals on the surface of the leather make it water resistant (alas, not water proof).
The toe box is covered in a suede layer to provide additional texture for better ball control as well as protection for your toes. In our experience, the Adidas Samba run bigger than the average indoor soccer shoe. This is also true for the adult version of Adidas Samba. You can learn about wide fitting indoor soccer shoes here.
A long tongue which provides more than adequate protection, and long laces to fine tune the fit complete the upper.
To achieve softer landings, we found EVA midsoles, that are both soft and lightweight.
The stiff heel counter is good for stabilizing the foot in sudden sideways turnings.
And finally we have the non marking gum rubber soles with patterns etched out in them. The patterns are for increasing your grip on the smooth indoor floors.
The shoes are black, marked with the traditional white stripes on the side that make us feel as if we are a part of the long Adidas Samba tradition. You can buy the classic tan outsole or the new black one. The classic design is still elegant and is sure to give a confidence boost to your kid.
Pros
Made of premium leather
Suitable for normal to wide feet
Highly durable
Cons
Limited style options
Heavier than average
Expensive
Joma has made a name for themselves in the sports market. The Joma Toledo is characterized by the same careful design, materials, and tech as all Joma sports shoes. And they usually offer a more affordable price range as compared to other similar shoes in the market.
Like most other indoor soccer shoes for kids, Joma Toledo uses a combination of synthetic and natural elements. The upper is made of synthetic material. The seamlessly sewn upper is meant to reduce the wear and tear and we felt that these shoes definitely hold together for longer because of it.
The upper is also part mesh, placed strategically to provide the feet with a proper ventilation.
These shoes have a good depth to ensure the foot is thoroughly settled in and in no danger of slipping out during rough turnings or sudden changes of direction.
Joma make sure their sports shoes are comfortable by using the standard EVA midsole, slightly thicker than what we are used to in adult shoes.
The patterns in the gum rubber outsoles area a must but in this case they do not only serve the purpose of increasing traction, they are designed to also increase the flexibility of the shoe and the comfort of the player. These shoes bend surprisingly well and it makes them so much more easy on the feet.
For most people we would suggest to order the same size as they use in regular shoes. A slightly snug fit is normal in the beginning. The shoes adjust a little after a few uses.
And last but not the least, your kids are sure to appreciate the color options they can choose from. The Joma Toledo Jr is available in 3 different colors, all of which our kids loved!
Pros
Suitable for growing feet
Highly flexible
Stylish, appealing colors
Cons
Heavier than average
Slightly less durable
We all start somewhere before we actually get anywhere. So, of you're a new soccer mom/dad looking for the first pair of indoor soccer shoes for your kid, the new Puma Rapido III is the best place to start. Puma has an established reputation for making comfortable and long lasting shoes and you will love these from the the upper to the sole.
First of all, the Puma Rapido is not aimed at any specific audience. They have a generic shape, not too tight, not too wide. The shoes have suitably low profile structure, neither too shallow, nor deep enough to cause blisters on the ankles. The tongue is the perfect average length, just long enough to partially cover the foot.
The synthetic material in the upper is sturdy and does not wear easily. It is thinner than other shoes in the same category but still delivers in terms of comfort.
Standard Puma outsole, made of gum rubber and sporting the unique triangular patterns ensures a great grip on the indoor court.
The overall design is sleek and elegant and results in a pair of shoes that are smart, low-profile, and light making them one of the best youth indoor soccer shoes in the market.
Pros
Suitable for a wide range of feet
Super light
Affordable
Cons
Less overall cushioning
Wear out easily
Diadora Cattura ID Jr Indoor Soccer Shoes
One of the most comfortable, yet lightweight indoor soccer shoes for kids. Diadora Cattura for kids have the non-marking soles, a good fit, and good traction required for indoor soccer. Plus they also fall in the lower price, like the Hawkwells, but Diadora materials are slightly better.
The outsoles are non-marking gum rubber, perfect for indoors. The unique pattern on the soles gives them a good grip on the smooth, hard floors. The soles are stable, with a good balance. The addition of cuts in the sole also make them quite flexible so that running is far more comfortable.
The insoles and midoles are EVA. The insole is fixed, and lined with cotton giving them a better feel. The midsoles absorb shocks well but lose their springiness with time.
Uppers in Diadora Cattura are made of PU leather, which while not as flexible as natural leather, are still soft and stretchy. There is a padded ankle collar for a bit of added comfort.
Diadoras, as is common with them, fit wider than average so keep them in mind if you choose to buy them. If your kid has narrow feet, you might try sizing down. Or you can use the adjustable laces for a better fit. The shoes are wider in the toe area and narrower in the heels.
They weigh around 7 oz, so fall in the average weight range for kids indoor soccer shoes.
With their synthetic uppers and wear-resistant soles, these shoes will likely last a good amount of time. And lastly, they do have a range of cool design options which the kids will love.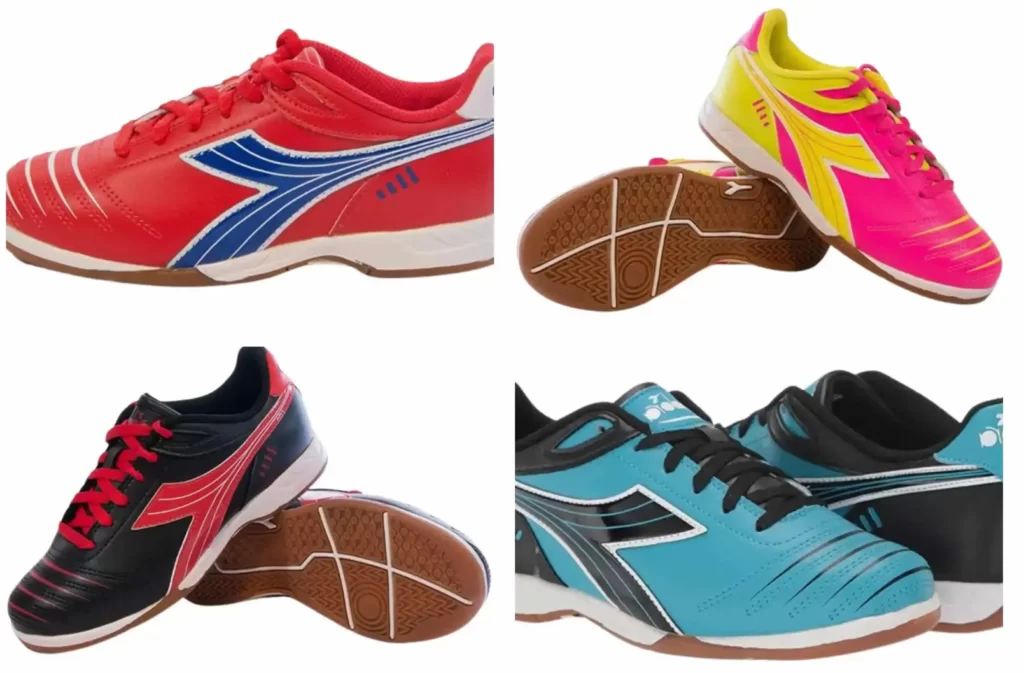 Pros
Durable
Comfortable fit
Good traction
Affordable quality
Cons
Fixed insole
Short laces
Non-breathable upper
Hawkwell Kids Indoor Soccer Shoes have recently gained popularity as a reliable brand for young soccer players. Their indoor soccer shoes are lightweight and breathable. They have a synthetic upper and a non-marking rubber outsole that has excellent traction on indoor surfaces. Plus they are available in a range of colors and sizes, which is a definite plus for kids. All this, in a very affordable price.
The outsole is non marking, grippy gum rubber, ideal for hard surfaces indoor. It is also quite sturdy and capable of withstanding rough usage.
Both the insole and midsole are EVA foam. The removable insole is an added optional advantage for kids with high arches. The midsole is spongy and supportive but not too thick, a good thing because otherwise the shoes will become too heavy.
Hawkwell uppers in kids' indoor shoes are made of synthetic material, part of which is breathable mesh. Breathability is a huge advantage in indoor soccer, where your feet are going to be enclosed in a snug environment for a couple hours. The uppers also have textured surface for increased ball control.
These shoes fit snugly, and are true to size, with moderate comfort, with a weight of around 7-8 oz.
And there are some cool design options to choose from too!
We consider he Hawkwell kids indoor soccer shoes to be good value for the money. They offer good quality and performance at a relatively affordable price. If you are looking for a lower-range pair of indoor soccer shoes for your child, Hawkwell is definitely an option.
Pros
Breathable upper
Good traction
Durable
Great value for money
Cons
Less flexible in the sole
Lesser known brand
So which pair of kids indoor soccer shoes would you choose for your child this season? Let us know in the comments below! You can also check out some Nike Indoor Soccer shoes for adults in this guide.
Frequently Asked Questions About Indoor Soccer Shoes for Kids
What shoes should kids wear for indoor soccer?
For hard court surfaces, it is best to wear shoes with gum rubber soles that have grippy patterns to prevent slipping on the flat surface.
Do kids need indoor soccer shoes?
Shoes are, without exaggeration, the most important piece of equipment for your youngster playing any kind of soccer. The right kind of shoes depend on the type of surface your child is playing on. If they are playing indoors, they are likely playing on hardwood or tile floors so they will need indoor soccer shoes that allow them to run on these surfaces without fear of slipping. You can read up more about how to find the right indoor soccer shoes for your kids here.
Do kids need soccer cleats for indoor soccer?
Indoor soccer is played on hard surfaces, so cleats on shoes are a hard no. Having cleats on their shoes will most likely lead to foot pain, not to mention the fact that cleats will reduce traction too. Cleats are meant to increase grip on rough, grassy surfaces. They are not suitable for indoor floors.