SENDA Ushuaia Club Indoor Soccer Shoes Review
As you might know from our post about the best indoor soccer shoes, SENDA is one of our newer favorites. This small brand manages to produce shoes that are highly functional, with durable materials that can compete with the best brands of indoor soccer shoes in the market.
In order to present the best reviews for our readers, we use personal experiences plus reliable feedback from authentic users to put together an analysis that can help you decide which product suits your needs best. In this case, we compare materials, design, durability and performance of the shoes.
SENDA Ushuaia Club Indoor Soccer Shoes
SENDA Ushuaia Club 2.0 is the lite version of SENDAs indoor soccer shoes :). They also have a pro version more suited for professional players. (Review coming soon). They are aimed for recreational sports rather than professional indoor soccer, but do not underestimate these shoes just because they are aimed more towards beginner level sports. They can still beat many professional brands in terms of quality and performance.
Here is the summary of our findings about the SENDA Ushuaia Club 2.0 indoor soccer shoes
SENDA Ushuaia Club 2.0 indoor soccer shoes
Shoe Specs:
Upper: Natural leather
Insole: EVA
Midsole: EVA
Outsole: EVA
Weight: 9oz
Fit: Normal to wide
Closure: Laceup
SENDA Ushuaia Club 2.0 are beautifully built indoor soccer shoes aimed for players who need more cushioning in their shoes. They have a padded natural leather upper, with quilted lines for increased ball control and touch. With EVA in the insole and midsole, plus a cushioned tongue for further comfort, these are some of the most comfortable indoor soccer shoes in the market. With all the added foam, they are still light (9oz) and flexible. Best for normal/wider feet. Also highly suitable for women.
Upper

SENDA Ushuaia Club upper is made of a mix of synthetic leather, microfiber, and a little bit of mesh. Everything is designed to heighten functionality. The top front is all synthetic leather, an essential material for this part because it needs to be made of durable materials. The leather used by SENDA can survive medium to heavy usage. As is common with indoor soccer shoes nowadays, the top of the shoe has stitched lines to reduce the smoothness and give more control to the player.
The toe box, which takes the maximum fire, is covered with microfiber which makes it at once more sensitive and more resistant to wear and tear.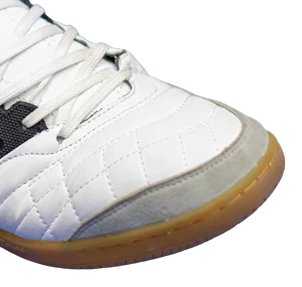 The sides are mesh, with a lightly supportive heel area on the outer side. The slightly stiff material gives structure to the shoes.
The thinly cushioned tongue is long, offering some protection to the foot. The rest of the upper also has a thin cushion. Players who prefer a highly sensitive touch may feel that this retracts a little from perfect ball control.
The lacing system is long with closely placed eyelets that helps further adjust the fit of the shoes.
Insole and Midsole
The SENDA Ushuaia is one of the most comfortable shoes in market. Both the insole and the midsole are made of EVA foam. Both make the shoe extremely comfortable.
The EVA in the midsole is soft, flexible, and nests the foot perfectly. The insoles offer casual arch support, but are 100% removable. We testes both with and without the insole and we found the shoes worked well in each case.
It was a pleasant surprise to find that despite the extensive cushioning, these shoes are very lightweight, weighing a mere 9 oz. The only shoe that is anywhere near this combination of being both lightweight and comfortable are the Diadora Capitanos.
Outsole

Outsoles on the SENDA Ushuaia Club indoor soccer shoes are made of EVA. They are soft, non marking and have a very good grip on the indoor surface. The patterns on the sole include lines and cuts for increased flexibility. Because of these soles, the bending action is quite easy and natural.
However, since the outsoles are made of EVA, they are not as durable as gum rubber outsoles.
Fit
SENDAs are built to fit snug and close. Most players prefer the close fit as it allows them to feel the ball better. If you'd like a looser fit, you can always go up half a size.
Style
SENDA Ushuaia Club indoor soccer shoes are designed in the classic style. There is a small range of color options that you can opt for.
Price
SENDA Ushuaia Club 2.0 fall in the mid-price range, which is amazing for the quality and design of the shoes.
In terms of design, and comfort, SENDA Ushuaia Club 2.0 are easily a 5 star shoe. They are snug, flexible, have great traction, and a nice touch. They are well priced and are suitable for both men and women. In fact, we consider them highly conforming to women's feet. The only possible drawback is that they may not last as long as higher end shoes.
Pros
Good ball control
Very comfortable
Good traction
Durable upper
Extremely lightweight
Cons
Mid-range price
Low sensitivity
Less durable sole