Best Indoor Soccer Players MASL-2023
Get ready to witness some electrifying indoor soccer action as America's best players gear up for the ongoing season. With lightning-fast footwork and stunning shots, these leading indoor soccer stars will leave you on the edge of your seat as they battle it out for glory. From seasoned veterans to rising stars, the upcoming season is sure to be filled with unforgettable moments and unexpected twists. So, fasten your seat belts and get ready for a roller coaster ride as we take a closer look at the top indoor soccer players who will be dominating the pitch this season!
Top Indoor Soccer Players 2022-23 MASL Season
Franck Tayou, with his remarkable scoring skills, is topping the charts as the best player of the current indoor soccer season. But there are other just as worthy of mention. We have chosen to list 5 of our favorite stars of the current season, but this list is far, far from being exhaustive. Read on to see if you agree with our choice of the best players in the ongoing MASL season.
We have purposely kept our focus on the version of indoor soccer popular in the USA, and for this reason, many excellent futsal players have not made the list. (You can read this article for more information about the difference between Indoor soccer and futsal).
Franck Tayou (Leading stats)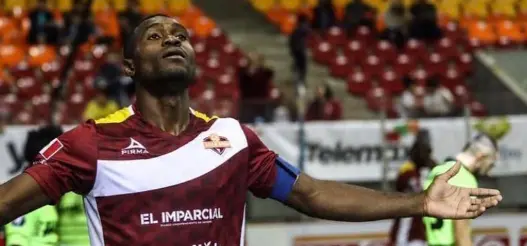 Leading the MASL scoreboards is Franck Tayou, with 38 points and 28 goals. Tayou has been representing the Empire Strykers this season, playing his usual forward position.
Frank Tayou was born in Cameroon on April 16th, 1990. He is known for his excellent striker skills. His indoor soccer career started in 2012, and he has played both indoor and regular soccer over the years since. His indoor soccer career really took off in the mid 2010s when Tayou established himself as one of the most dominant players in the game.
Tayou's career stats are nothing short of remarkable, with 363 goals in 173 games and 999 shots. His goal-scoring prowess has earned him the Most Valuable Player (MVP) award no less than 4 times in the MASL.
Tayou has been a part of the MASL winning teams in the 2015-16, 2016-17, 2017-18, and 2019-20 seasons, and the runner ups in 2018-19.
His current season points (38) and season goals (28) speak volumes of his impressive skills on the pitch, cementing his position as one of the top forwards in the game.
Aside from his on-field exploits, Tayou is known for his humanitarian efforts for orphans for which he was also awarded the Ed Tepper Humanitarian of the Year Award in 2018-19 specifically his work with orphans.
As the new season progresses, we are eagerly looking forward to more spectacular performances from Frank Tayou, our favorite indoor soccer player. You can learn more about his career by reading his Wikipedia page.
Check out his social media:
Lucas Roque (Rising star)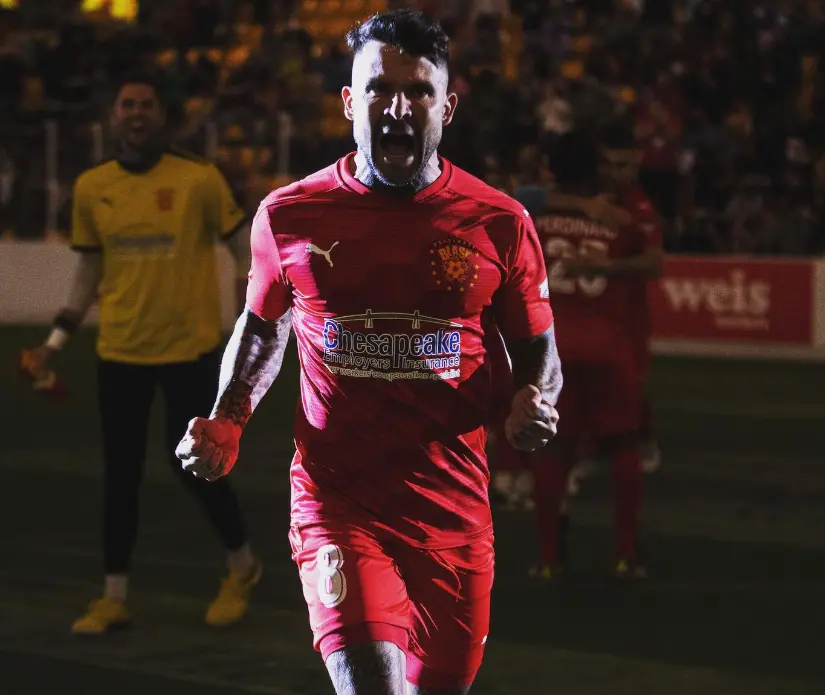 Born in Sao Paulo, Brazil on 5th March, 1988, Lucas Roque has been playing professional indoor soccer for more than 10 years but has truly shot to fame in the last two years. He has been playing for the Baltimore Blasts since 2014 and has become a rising star in the recent seasons.
Playing for the Baltimore Blasts since 2014, Lucas has become an integral part of the team by scoring 124 goals in 104 games. In the 2020-2021 season, Lucas surpassed all previous performances by gaining 39 points and scoring 26 goals, and this season he's already well on his way to surpassing even those numbers with 34 points and an equal number of goals halfway through the season.
His steady scoring is his strongest point and he has ensured that he scores at least 10 goals in every season. He has been part of the winning team in 20106, 2017, and 2018.
With the new indoor soccer season underway, be sure to keep an eye out for Lucas Roque and witness the magic he brings to the pitch.
You can follow him on Instagram : lucasroque88
And if you'd like to know more about his career, you can read up his bio here.
Ian Bennet (Leading champ)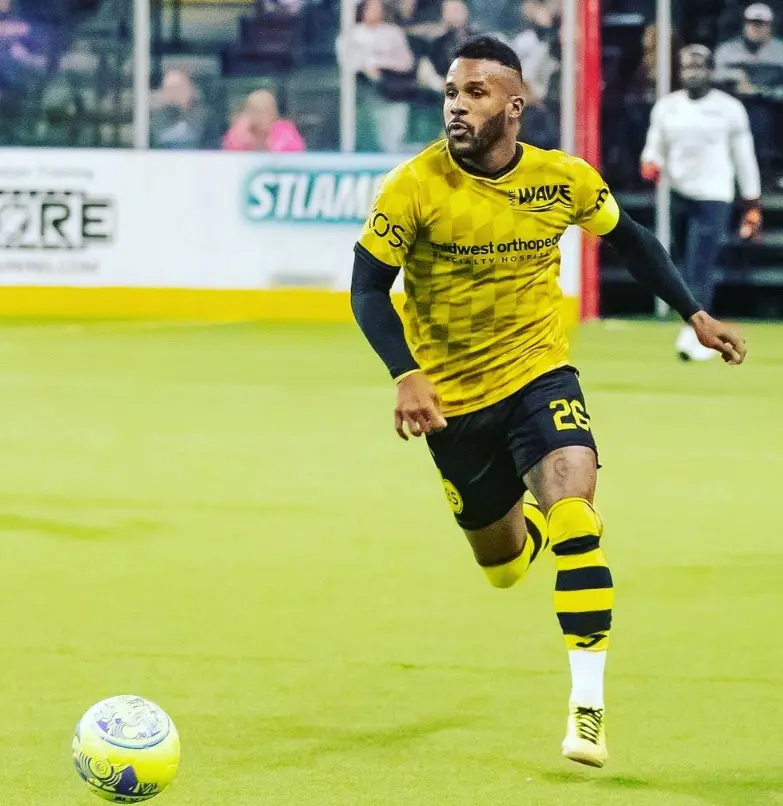 The Canadian sensation was born on August 27th, 1983, and has been lighting up the indoor soccer world for over a decade. With a career that spans over a decade, Ian Bennett has proven time and time again that he is one of the best strikers in the field.
Since 2009, he has been playing for the Milwaukee Wave, with a brief stint at the Rochester Rhinos in 2010 and a one-season stint with the Florida Tropics in 2021. He helped the Milwaukee Wave in winning the MASL championship in 2018-19, and his skills continued to shine as the Florida Tropics claimed the MASL championship in 2020-21 while he was on loan to them.
Bennett holds the prestige of winning the MASL MVP twice, with honors in 2020-21 and 2021-22. He was also a MASL All-Star in 2019-20. With a career total of 172 games, he sits in second place, just behind Franck Tayou. And with 442 career points and 362 career goals, he is once again in second place, behind the unstoppable King Tayou.
One of his most impressive feats is his top goal streak of 40 games, a testament to his skills on the field. With a new indoor soccer season in full swing, be sure to keep an eye out for this Canadian superstar and see for yourself why he is so good at his game!
His social media handles are full of amazing pics! And his MASL career (which you can read about here) has always inspired us.
John Sosa (Leading defender)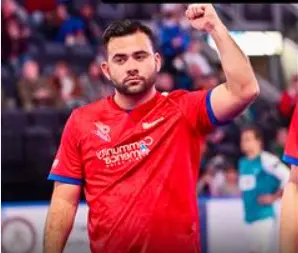 Born on October 22, 1988 in Colombia, John Sosa is a formidable defender on the indoor soccer field. Sosa has been playing on the defense for the Comets since 2011, except for a brief stint with the San Diego Sockers in 2018.
Sosa helped the Missouri Comets in winning the MISL championship in 2013-14, and were runners up in 2011-12 as well as 2012-13. He has continued to shine as one of the best defenders in the league. In his career, he has played in 163 games, tallying 165 assists and 165 blocks – a testament to his impressive defensive skills.
His career-best season saw him score 14 goals and rack up 23 assists in just 19 games. And this season, he is leading the scoreboards once again with 15 assists, 25 points, and 10 blocked shots already under his belt. He also won the Offensive Player of the Month for December 2022.
If you're a fan of indoor soccer, be sure to watch John Sosa in action! And be sure to read about his early career in his wikipedia bio. For more personal updates, you can visit his twitter page.
Chris Toth (Leading goalkeeper)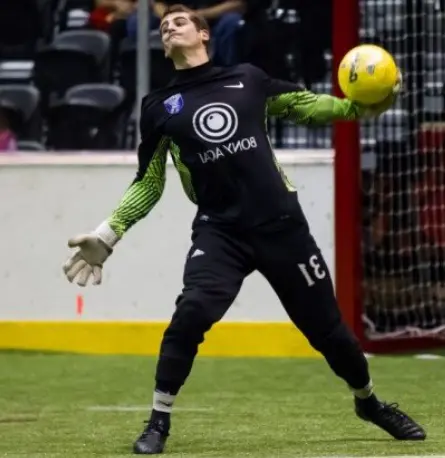 If you want to see goalkeeper greatness on the indoor soccer court, look no farther than Chris Toth, the star goalkeeper for the Empire Strykers. Born on August 4th, 1989 in San Diego, California, Toth has been showcasing his talent and athleticism as a goalkeeper since his professional debut.
Toth is also a top performer on the MASL career leaderboards, 83 wins under his belt, and an impressive 1761 saves, placing him in second place. In 138 games as a goalkeeper, Toth has consistently demonstrated his quick reflexes and strong hand-eye coordination.
His best season yet was in 2016-17, where he had a save percentage of 0.815. As the current season unfolds, Toth is leading the goalkeeper leading board with a save percentage of 0.758% and 10 wins as a goalkeeper, not to mention a season high of 188 saves. Don't miss your chance to see this talented player in action!
You can catch all of his updates on his Instagram: @Christoth31, but you will have to convince him to be friends with you first :).
Do you agree with our choices of the best indoor soccer players? If so, let us know by dropping a comment below!