Adidas Copa Sense.4 Indoor Soccer Shoe Review
Adidas Copa Sense.4 is our second favorite adidas shoes for indoor soccer. (Our favorite are adidas Sambas, which you can check out where we review all our favorite indoor soccer shoes) The Copa series focuses on ways to improve ball handling and the Copa Sense.4 manages to hit all the sweet spots for a top performing indoor soccer shoe. From the unique grip pattern on its rubber sole, to the functional cushioning and sleek, modern design, to the upper mid-range price, we feel like this shoe is the best balance between function and price.
In this article, we will give you our detailed review of the Adidas Copa Sense.4 by looking at the materials, design, style, fit of these shoes. While reviewing anything, we consider our personal experience, as well as reviews from other reliable users so that you can obtain a careful, honest and detailed understanding of the product. So here is what we have discovered about the Sense.4:
[Disclaimer: This post contains Amazon Affiliate links. If you click on those links, I may earn a small commission at no extra cost to you)]
adidas Copa Sense.4 Indoor Soccer Shoe
Shoe Specs:
Upper: Synthetic leather
Insole: EVA
Midsole: EVA
Outsole: Gum rubber
Weight:
Fit: Narrow
Closure: Laceup
Adidas Copa Sense.4 indoor soccer shoes are sleekly built, lightweight indoor soccer shoes, with a narrow, modern design, and high quality, durable materials. They perfrom well on the indoor floor, with good traction, and smooth turns. Built as a unisex shoe, they are suitable for both men and women with slim, narrow feet.
Upper

Adidas Copa Sense uppers are all made of synthetic leather, which is what makes them so durable. On average they can last several months of heavy use. This leather material, plus the stitched lines which make up the textured design on the uppers, make them ideal for playing indoor soccer. The stitched design increases ball control and the leather material is soft and sensitive and gives a good feel for the ball.
Because of the leather, however, Copa Sense.4 are less breathable than shoes made with mesh or combination materials. Most of the heat and moisture will be trapped inside the foot.
Although the leather makes it quite durable, there is still a lack of any reinforcements in the the toe box. As a result, the toe area used to kick the ball will wear out much faster than the rest of the shoe.
The tongue is short and thin. It lacks any cushion, which is good for touch, but doesn't offer any protection to the foot. Most indoor players prefer touch over comfort, so this can be a good thing or a bad thing depending upon your preference.
Lacing system is short, with fewer eyelets, but the overall fit of the shoe is snug enough that fewer eyelets worked well for us.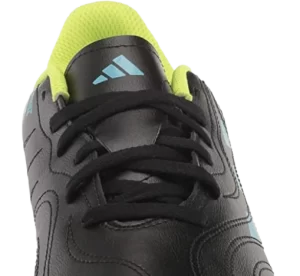 Insole and Midsole
The inside of the shoe is lined with soft, flexible mesh, covering the lightly cushioned midsole. There are removable insoles made from the same EVA foam.
Outsole

Soles are standard gum rubber, with simple, non marking patterns. They feel nice and stable on the smooth indoor court. It's easy to cut and run without fear of sliding as the grip is good. The distinctive pattern in the heel makes it specially stable. Although there are tiny cuts in the patterns to make it easy to flex your feet, and the soles are soft, but these shoes are not very flexible.
Fit
The shoe fits snugly around the foot. It is moderately comfortable, with cushioning in the sides and midsole. It is suitable for people who have long, slim feet. These shoes run narrow so they might not be suitable for players with wider toe areas. If you have wider feet, you can try going up a size. If your feet are on the wider side, you may want to check out our article for wide indoor soccer shoes.
These shoes also take some time to become adjusted to your foot. Its best to wear them a few times before judging the fit.
Because of their narrow overall width, they are a great option for women.
Style
These shoes also do well in the looks department. You can go for a bright look, classic look, or something in the middle by choosing from the three color options available. The design is modern and stylish and works well for both men and women.
Price
Price wise, Adidas Copa Sense.4 falls on the expensive side, so you will have to consider that if you choose to buy them.
Adidas Copa Sense.4 are not meant to be the most comfortable, instead focusing more on ball control and touch. The EVA in the midsole is thin and there is hardly any heel cushion. However, it was very easy to maneuver the ball and we loved the sensitive feel, and the control it gave us over the ball. They are durable and meant to last.
Pros
Excellent ball control
Nice sensitive touch
Sleek design
Snug fit
Highly durable
Cons
Perform best for narrow feet
Average grip
Upper mid range price
Low on comfort