Adidas Mundial Team Turf Soccer Shoe Review
Product Review: Adidas Mundial Team Turf Soccer Shoe
A classic shoe that has been popular with soccer players of all levels for decades, the adidas Mundial Team Turf Soccer Shoe is known for its durability, comfort, and performance on turf surfaces. The shoe is especially well-suited for players with wider feet. In this adidas Mundial Team Turf Soccer shoe Review, we will discuss the performance of these shoes based on our tests and the feedback from actual people who have bought and used them.
You may also want to check out our prodcut guide for other wide soccer shoes.
Adidas Performance Mundial Team Turf Soccer Shoe
Shoe specs:
Upper: Kangaroo + cotton interior
Midsole: EVA
Insole: EVA, removeable
Outsole: Synthetic rubber
Fit: Normal to wide
Weight: 12.7 oz
Closure: Lace up
The Adidas Performance Mundial Team Turf Shoe is a top-performing soccer shoe made with a soft, full-grain kangaroo leather upper that molds to the foot. The die-cut EVA midsole provides lightweight cushioning and support, while the multi-studded rubber outsole delivers excellent traction on artificial surfaces and dry natural fields.
What To Look for In a Turf Soccer Shoe – Turf Soccer Shoe Buying Guide
Here are a few things to keep in mind when going shopping for soccer shoes for turf. How important each of these are for you depends on your requirements and circumstances, but traction and touch are two things that I never compromise on. You can consider expanding these basic requirements using the list below:
Traction : Look for gum rubber soles with small studs. Avoid larger cleats on the soles when playing on turf because they are more suited to natural ground then articficial turf.
Ball control (touch) : The lighter and less cushioned the upper, the better your touch will be on the ball. Natural leather (kangaroo, cowhide) are the best for good ball control. Synthetic leather is less sensitive.
Weight : Lighter shoes = more agility. Lighter shoes also means less comfort, but its a trade-off and depends on your personal needs.
Cushioning : More cushioning usually means a heavier shoe, which will slow you down on the field. Some shoes are an exception to this rule, like the Diadora Capitano, but in general, soccer shoes (indoor or outdoor) are built for speed, not comfort.
Support : Same as for cushioning. There is often no heel or ankle support in soccer shoes. We always try to highlight any shoes which are the exception to this rule.
Durability : This is the one place where synthetic materials win over natural ones. Synthetic leather, and synthetic rubber are both more long lasting as compared to natural leather and gum rubber. Natural gum rubber soles are almost always preferred for indoor surfaces because of the traction it provides. In case of turf, however, durability trumps other concerns, and I always choose synthetic rubber soles.
Adidas Mundial Team Turf Soccer Shoe Review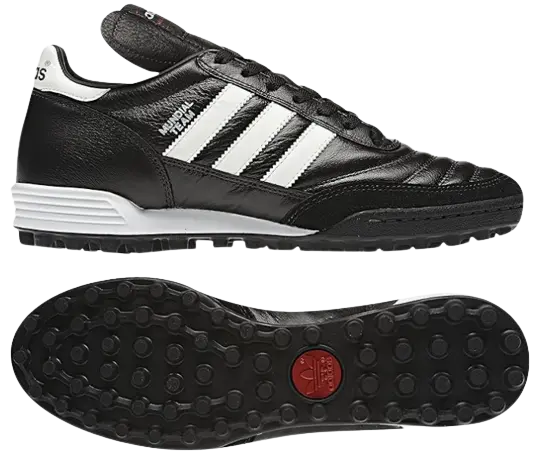 There are many things that make these shoes classics. Great combination of natural and artificial materials, durable outsoles, and an amazing fit, all contribute towards their appeal. We have broken down the shoes and reviewed each part separately so that you can easily make a judgement according to your own requirements.
Outsole : The outsole of the adidas Mundial Team Turf shoe is made of durable rubber which provides excellent traction on artificial surfaces. The rubber is also relatively soft, so the landings are cushioned and the impact is lessened (which means there is less chance of injury to your joints).
The studs are short, and evenly spread out in a non-directional pattern, which is ideal for turf surfaces. The studs are also spaced out so that in case of a wet field, there is minimal mud accumulating between them. The grip on these was exceptional; we rarely find this level of traction on turf shoes.
The toe box has a suede layer for reinforcement, which we were very grateful for. Seriously, all soccer shoes should have reinforced toe boxes.
Insole + Midsole : The Mundial Team Turf shoe has a removeable, molded EVA insole that provides good cushioning and support. The insole add to the overall comfort and though we can't say that will be very good for shock absorption if you decide to make high jumps, your feet will appreciate the support after running for a couple hours.
Upper : One of our favorite features in adidas Mundial Team Turf shoe is the kangaroo leather upper. Soft, supple, foot hugging, and comfortable, natural leather is the perferred material for most soccer shoes because of all these and also because of the incredibly sensitive touch it affords. It is less durable than synthetic leather but still capable of surviving a long time.
The upper also features a traditional tongue-in-groove design, which provides a secure fit and prevents the tongue from slipping. The shoe also has a padded heel collar and Achilles notch for added comfort and protection.
adidas has chosen to make the tongue and collar cushioned in these shoes. We prefer our uppers to be as thin as possible but that is a matter of personal preference. The padded tongue does add a layer of protection for the foot.
Fit : The fit is true to size , but the generous spacing in the toes allows it to be a good choice for players with wider feet. These shoes will require a break-in period before they adjust to the shape of your feet, because natural leather takes time to fit. Once they do, however, you will be very happy (trust us on this :)).
Cushioning : Other than the midsole and insole, the tongue and collar are also padded.
Weight : The adidas performance Mundial Team Turf Shoe weighs 12.7 oz, which is on the heavy side for turf shoes. However, this is a trade-off between fit and agility (kangaroo leather fits very well but tends to be heavy whereas synthetic leather will mold less perfectly but is lighter). So these shoes will make you less agile but will be super nice to your feet. So which way will you choose?
Durability : adidas does have the well earned reputation of building durable shoes. These shoes feel sturdy and will last longer than most other turf shoes but they will probably wear out faster than shoes made of synthetic leather.
Performance : After playing in these shoes for a few days, we feel that the adidas Performance Mundial Team Turf Soccer Cleat is a fantastic choice for turf soccer players. They combine outstanding traction, comfortable cushioning, premium Kangaroo leather, a secure fit, and a balanced weight, making them versatile and reliable on the field. (Translation : we loved them and fully recommend them to you)
Pros & Cons – Adidas Mundial Team Turf Review