Product review: Adidas Goletto VIII Turf Soccer Shoe
adidas Goletto VIII Turf Soccer Shoe Review
The adidas Goletto VIII Turf Soccer Shoe is a great all-around turf shoe for recreational players. With its sticky outsole with low-profile studs for turf, comfy midsole, and snug fit, it provides good traction, cushioning, and support at an affordable price. The Adidas Goletto VIII Turf Soccer Shoe is an excellent choice for anyone looking for a reliable and high-quality soccer shoe for turf surfaces. Here is a detailed product review for the Adidas Goletto VIII Turf Soccer Shoe.
Looking for something different? Check out our kids' indoor soccer shoe reviews, or women's indoor soccer shoe guide.
adidas Goletto VIII Turf Indoor Soccer Shoe
Specifications:
Upper: Synthetic Leather + cotton interior
Midsole: EVA
Insole: EVA, removeable
Outsole: Synthetic rubber
Fit: Narrow
Weight: 10 oz
Closure: Lace up
Built for style and performance, the adidas Goletto VIII Turf Soccer Shoe features a durable rubber outsole for exceptional traction, a comfortable cushioned insole, and a sleek synthetic leather upper for enhanced ball control. Secure fit and lightweight design make it a winning choice for soccer enthusiasts. .
What To Look for In a Turf Soccer Shoe – Turf Soccer Shoe Buying Guide
Here are a few things to keep in mind when going shopping for soccer shoes for turf. How important each of these are for you depends on your requirements and circumstances, but traction and touch are two things that I never compromise on. You can consider expanding these basic requirements using the list below:
Traction : Look for gum rubber soles with small studs. Avoid larger cleats on the soles when playing on turf because they are more suited to natural ground then articficial turf.
Ball control (touch) : The lighter and less cushioned the upper, the better your touch will be on the ball. Natural leather (kangaroo, cowhide) are the best for good ball control. Synthetic leather is less sensitive.
Weight : Lighter shoes = more agility. Lighter shoes also means less comfort, but its a trade-off and depends on your personal needs.
Cushioning : More cushioning usually means a heavier shoe, which will slow you down on the field. Some shoes are an exception to this rule, like the Diadora Capitano, but in general, soccer shoes (indoor or outdoor) are built for speed, not comfort.
Support : Same as for cushioning. There is often no heel or ankle support in soccer shoes. We always try to highlight any shoes which are the exception to this rule.
Durability : This is the one place where synthetic materials win over natural ones. Synthetic leather, and synthetic rubber are both more long lasting as compared to natural leather and gum rubber. Natural gum rubber soles are almost always preferred for indoor surfaces because of the traction it provides. In case of turf, however, durability trumps other concerns, and I always choose synthetic rubber soles.
adidas Goletto VIII Turf Soccer Shoe Review
Outsole : Outsoles are the foundation of a good soccer shoe. The outsole of the Adidas Goletto VIII Turf Soccer Shoe is made of durable synthetic rubber with a low-profile turf pattern. There are triangular studs that provide good traction on both artificial and natural turf surfaces. The outsole is also flexible, which allows for good range of motion.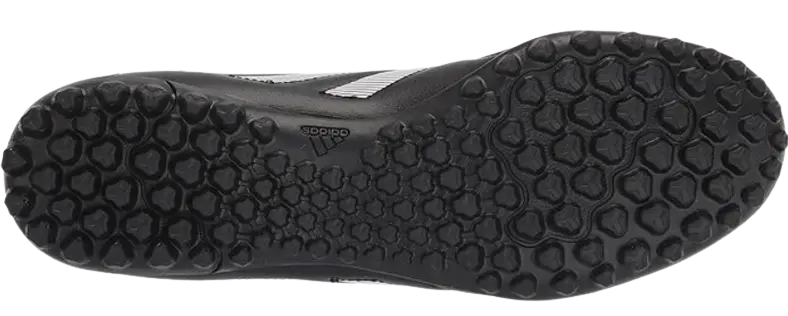 Insole + Midsole : Insoles and midsoles are for comfortably nestling the foot while playing, providing cushioning and support. The midsole in these shoes is adequately padded, offering a good balance between cushioning and responsiveness. The removeable insole is made of EVA foam, and while not overly thick, provides just the right amount of support for your feet; but it is by no means a substitute for medical-grade insoles.
Upper : adidas Goletto VIII has a synthetic upper, with a nice, sensitive touch for the ball, no more and no less than other adidas turf shoes. The synthetic material is light and breathable, a big plus for all sweaty footed soccer players out there (is there any other kind?). There is no special reinforcement in the toe box, and I feel that this is where mine will start wearing off. (There are no signs of wear and tear as of yet, the shoes are built of good quality materials).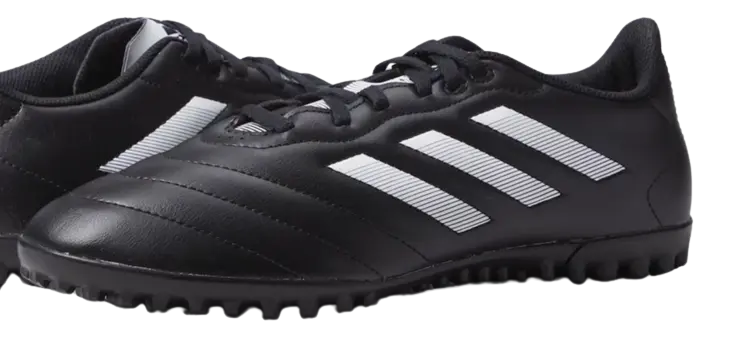 Fit : The shoes are snug and do not allow slippage, BUT they do run narrow, so might want to size up a whole size. You can adjust the fit further using the lace-up closure.
Weight : The Adidas Goletto VIII Turf Soccer Shoe weighs approximately 10.6 ounces (300 grams) per shoe, making it relatively lightweight in its class. This weight allows for agility and quick movements on the field without feeling weighed down.
Durability : These shoes are well constructed with good quality synthetic materials, and are in no danger of falling apart any time soon. However, they are not built for prolonged exposure to the wet, so alwasy dry them out after use to extend their life.
Performance : Here lies the true test. We tested out the adidas Goletto VIII to check out traction, ball control, overall comfort and ease of movement. What we found was that these shoes have a good grip on turf surfaces, and it is easy to make quick turns without fear of slipping on the ground. Touch was average, not at all bad but not as good as Sambas, for example. They still feel good on the feet after a long day of practice, which says a lot about the construction of the shoes. Overall, we were pretty satisfied with these shoes. A good shoe for playing once or twice a week for fun.
Pros & Cons – adidas Goletto VIII Turf Soccer Shoes
Pros
Light-weight
Breathable
Good traction
Durable
Affordable price
Cons
Synthetic leather upper does not provide the best touch
Minimal cushioning
Run quite narrow
Conclusion
The Adidas Goletto VIII Turf Soccer Shoe is a good choice for recreational soccer players who are looking for an affordable and durable turf shoe. The shoe provides good traction, support, and cushioning. It is also lightweight and breathable, making it comfortable to wear for long periods of time.
However, if you are looking for a shoe with more cushioning, or if you have wide feet, you may want to consider a different shoe.
Looking for more product reviews? Check out our Guides section. You can also find great tips for playing indoor soccer in our blog.